Episode 3.3
Season 3, Episode 3

Vital statistics

Air date
26th February 2014
Written by
Shaun Micallef
Directed by
Jon Olb

Episode guide

Previous
Next
Episode 3.2
Episode 3.4
Official Description
Edit
Fill-in host Lee Lin Chin gets laughs with an over-sized torsion wrench. Also stars Emilio Tahoeny, Veruca Millstone and [TROUBLE CODE E01. THE DOOR OF YOUR MACHINE IS OPEN.]
Easter eggs
At 12:06 in the episode, the following image is flashed up on screen very briefly. It's a reference to Schapelle Corby and her alleged boyfriend she met while in jail.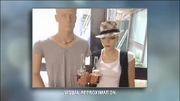 Ad blocker interference detected!
Wikia is a free-to-use site that makes money from advertising. We have a modified experience for viewers using ad blockers

Wikia is not accessible if you've made further modifications. Remove the custom ad blocker rule(s) and the page will load as expected.